BRANDED RESIDENCES: Lucrative Investment?
Written by: Mary Ann Lubang, Business Analyst – Qetaifan Projects
"Branded Residences are luxury homes associated with a premium brand that offers prestige and recognition through association, in addition to services."
by: Billions Luxury Portal
Luxury or premium brands give the mindset of the established well-known names in the market, best quality products, high level of service, exclusivity, high-priced, limited stock, and so on which means only a portion of individuals can hold on to or experience it on a day-to-day basis which mostly associated with high-net-worth individuals.
Let's trace how it all started, the branded residences concept began its roots back in the late 1920s when the Sherry-Netherland hotel opened on Fifth Avenue with its service apartments. Following 1929, the opening of the hotel and private residences of The Carlyle on nearby Madison Avenue. The concept was only revamped in the mid-1980s when Four Season sold its hotel condominiums in Boston. Soon after, a notable branded residence was Amanpuri developed in 1988 in Phuket, Thailand with 30 branded villas that eventually set the standards in creating residential resort luxury projects.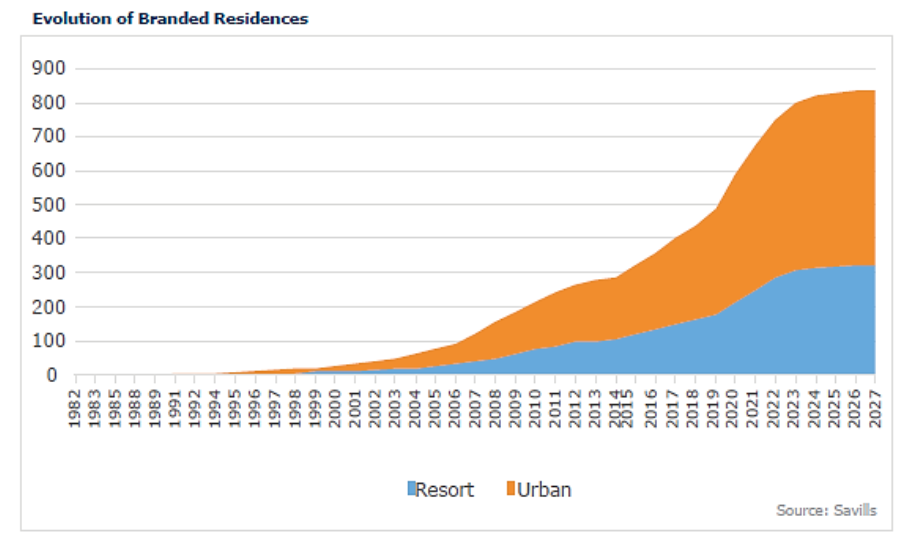 As Four Seasons recognized the potential, it seized the opportunity to expand its portfolio in North America and established an international presence by acquiring the Asia-based Regent Hotels in 1992. Then in 2000, Ritz-Carlton entered the market launching its Washington DC residences. And the rest is history, the past two decades show an exponential growth of branded residences and its potential is still on the rise.
What should an Investor look forward to?
The brand involvement gives investors a sense of reassurance of the quality, design, maintenance services and management of their properties aligning to the brand's standards making them highly leasable and commanding premium rental returns.
Whether it's for private use or investment, purchasing a branded residence is a win-win as it offers a desired luxurious lifestyle and a strong value proposition.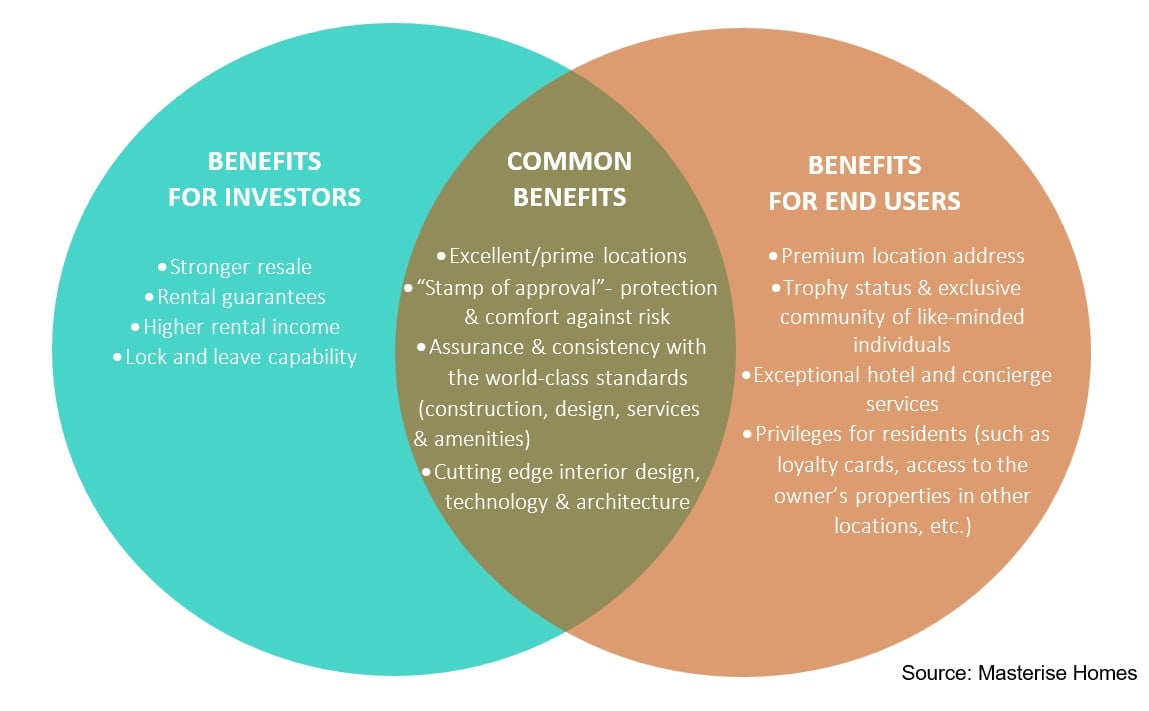 Branded Residences often showcase world-class interior design, advanced in-home technology, exceptional concierge services, distinctive lifestyle amenities, and sustainability initiatives. Yet, there is another element that is also an important factor which is location, location, location that contributes or adds more to the value of the property with the exceptional view, one-of-a-kind neighbourhood, and a unique destination.
It is considered that this type of residence also becomes a trophy-like asset that identifies with a certain quality of life or taste. That's why brands are eager to create an elite "club" of residents with similar values, interests, and social status.
"Branded residences are more popular than ever among wealthy international buyers as a property investment that offers the best in prestige, convenience, and innovative design. They come with a name that buyers trust, first-class facilities, and crucially, they can be a good investment."
Zoe Dare Hall, Real Estate Writer
As it is the most popular choice for investors, even in volatile markets, Branded Residences have this imaginary protection that weathers the storms during an economic collapse, fluctuating markets, major recessions, or even during pandemics. Prime property has always been more resilient since it continues to hold its value.
What QIN can offer?
Developers and hotel owners are increasingly interested in projects with a private residence element.
That's why branded residences are usually a partnership between a brand and a developer.
Qetaifan Projects and Dar Al Arkan are bringing to Qatar a premium brand that will guarantee quality and resonate with the desired target market aligning with their exceptional lifestyle aspirations.
"Everything comes from the Heart" by Elie Saab
The world-renowned designer led the way in becoming the first Arab to be admitted to the fashion industry's governing body, Chamber Syndicate de la Haute Couture.
As Dar Al Arkan describes the project as The Paradise by The Shore, it is easy to see why Qetaifan Island North is the perfect match for Elie Saab as it is a place of unimaginable beauty, a whimsical dreamscape of opulence and serenity. A haven of grand shores, infinite horizons, and sumptuous seafront living.
Launching Les Vagues by Elie Saab is elegant alchemy of glass and aluminum. The building is featuring 70 lavish 1, 2 & 3-bedroom sea-front residences with a variety of majestic balconies and terraces. It's a residential community on a luxury island.
A branded residence is another option for real estate investors as it is considered a smart choice, going to retain and build its value over time while giving an upgrade to its portfolio hence for residents it upgrades their lifestyle.
REFERENCES:
BRANDED RESIDENCES – Fad or Fact? by Baron R. Ah Moo, PKF hotel experts, January 2020
WHAT'S IN A NAME? THE RISE OF BRANDED RESIDENCES – Billions Luxury Portal
ABOUT BRANDED RESIDENCE – A New Era in Unparalleled Prestige, First Edition 2021, Masterise Homes
BRANDED RESIDENCES: An Overview 4 th Edition 2021 by Chris Graham – Report Author, Graham Associate
BRANDED RESIDENCES – World Research 2021 Savills Research